Rolan Micallef Attard
FIA, CPA, MBA(e-Business)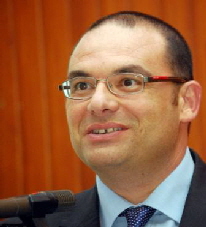 Rolan Micallef Attard is a Certified Public Accountant and holds a practicing certificate to act as Auditor. He is Fellow of the Malta Institute of Accountants and has a Master's Degree in Business Administration (eBusiness).
Rolan trained and qualified with audit and accountancy firms and now has more than 30 years of professional experience. In 1992 he set up his own consultancy firm. Rolan also sits on the boards and committees of a number of entities providing commercial, financial advice and strategic direction.
Rolan is also highly involved in the co-operative movement.
The Firm
Certified Public Accountant, Auditor & Business consultant
The firm trading under Rolan Micallef Attard offers a one-stop-shop business support service and provides a holistic approach to the various periodic financial requirements for the clients' business environment. Services offered include auditing, accounting, bookkeeping, taxation, secretarial, start-up and consultancy.
We work intensively with our clients, thoroughly discussing requirements in order to come up with a personalised package that best suits their needs. Many of our clients are micro and small to medium size entities in the various sectors of the economy. Through the knowledge and extensive practical experience gained over the years, we provide services to self-employed persons, family businesses, companies, co-operative societies, partnerships, micro businesses, SMEs, employers, NGOs, VOs and associations.
Besides corporate entities, the firm also has a significant client base of individuals such as company directors and entrepreneurs. Other clients who use our personalised services are persons in employment, pensioners, single/married/separated/divorced people and single parents.
Our offices are centrally located in Attard, Malta and parking is available. Bus stop "Zarb" is located just outside the offices and is serviced frequently by bus route numbers 51, 52 and 53.
In 2004 the firm launched the successful website YesItMatters.com through which we reached thousands of users searching for information regarding various commercial and personal aspects. YesItMatters.com Resources Section deals with employment, social security, pensions, taxation, VAT, company and co-operative matters, among others.