2016 – Co-operatives: The power to act for a sustainable future
The slogan chosen for the 2016 International Day of Co-operatives on the 2nd July 2016 is Co-operatives: The power to act for a sustainable future.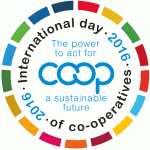 The slogan was chosen by the International Co-operative Alliance to emphasize the co-operative contribution to the United Nations' Sustainable Development Goals.
The 17 United Nations' Sustainable Development Goals (SDGs) are to achieve 3 extraordinary goals in order to build a better world: end extreme poverty, fight inequality, fix climate change – by 2030.
The Alliance claim that Co-operatives have a unique role to play in realizing these SDGs, as they are democratic, locally rooted, people driven and contribute to sustainable economic growth, social development and environmental responsibility. The co-operative business model has sustainable development at its core, based on ethical values and principles.
The Alliance is encouraging cooperators to host SDG events, educate co-op members and the general public in the local community about the Sustainable Development Goals and how co-operatives are able to contribute to nmeet these targets. In addition the Alliance encourages cooperators to meet with national stakeholders and authorities to discuss how co-operatives are drivers of sustainable development goals.
On the 24th June 2015, Mr Rolan Micallef Attard, CEO of the Malta Co-operative Federation, coordinated a workshop entitled Co-operatives and their relationship with UN Sustainable Development Goal No 8 – Promote sustained, inclusive and sustainable economic growth, full and productive employment and decent work for all.  The seminar was organised by SKOP under the title: Post 2015 Development Agenda – How can we take action in Malta?
July 2, 2016

Created By:

Categories:

Tags: