Malta | Budget 2016 – Pensioners
Relevant Government Budget 2016 measures affecting pensioners:
Cost of Living Allowance (COLA) – increase of €1.75 per week commencing January 2016 – view 2016 COLA
Malta resident status tax rates for 2016 – view 2016 resident status tax rates
Minimum contributory pension and bonus in 2016 shall be €7,280 p.a. for persons with a sufficient number of contributions paid.
Minimum contributory pension and bonus in 2016 for persons with an insufficient number of contributions paid shall be pro-rata of €7,280 p.a.
Married pensioners receiving a minimum pension shall benefit from €4.15 per week increase over and above the COLA adjustment.
Persons born after 1968 shall require 41 years of valid social security contributions instead of 40 years to be able to apply for a full pension.
Persons who in agreement with their employer continue to work after pensionable age shall have their pension increased by 2% – 4% per additional year in employment.
Pensions shall accrue on the day after the pensioner stops working or on death of the spouse.
Service pensions and disability pensions shall increase.
Pensioners of 75 years and over shall retain the grant €300 p.a.
Compensation of up to half the minimum wage shall be grated to persons employing in-house carers.
Government Budget 2016 Highlights   Click here for full Government Budget 2016 Highlights
Downloads:  Budget 2016 Speech in Maltese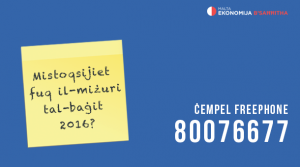 October 14, 2015

Created By:

Categories:

Tags: