Our Co-op, Idea – Mission – Achievments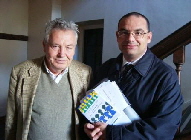 On the 3rd September 2009 in Oxford UK during an ICA Research Conference entitled "People before profit: the response of co-operatives to the global financial crisis and economic recession", Profs. Hans Münkner presented a preview of the book "Our Co-op, Idea – Mission Achievements" to Mr. Micallef Attard.
The book brings together the combined experience of the co-operative specialists from the fields of economic and agrarian policy, law of organisations and business administration with thorough knowledge of co-operative theory and  practice as a common denominator. It gives a concise survey of how "Our Co-op" is functioning and what those working in a co-operative society should know about their organisation.
The book written in German by the authors, Grosskopf, Münkner and Ringle shall also be available in English.
September 3, 2009

Created By:

Categories: