Online Measurement Matters
The significance of metrics in any field of study is indisputable. Managers rely on established metrics in the traditional management disciplines in order to determine their organisation's current position and to provide indicators for selecting suitable strategies for future initiatives. The popularity and accessibility of the Internet is changing the traditional face-to-face encounter with the client. Organisations have the opportunity to move closer to the person behind the Web browser, and are now finding themselves just one click away from potential customers. In this dynamic scenario, managers need to have reliable measurement standards, appropriate Web analytic tools and expertise at their disposal, all of which are indispensable for the success of their online initiatives.
A recent survey conducted has looked into whether local organisations with live online presence optimise their return on investment (ROI) as a result of the adoption of Web analytics.  Read full study entitled 'Vade Mecum for the Web Analyst' (2004) by Rolan Micallef Attard
The results have shown that although 79.1% of these organisations (tourism, telecommunications, media, publishing and government organisations ranking top of the list), have facilities to track online activity on their websites, only 42% of all surveyed organisations take a reactive approach to changing online strategies based on Web analytics for the purpose of increasing their ROI, as a result of regular 'in-depth' analysis of online customer-centric related e metrics. This notwithstanding, the level of sophistication of Web analytic applications in use is revealed to be low. Other significant results obtained identified that 94% of respondents of organisations with access to Web tracking applications do not measure complete browsing history by unique visitor analysis, while 90.7% of surveyed organisations have never performed a 3rd party usability testing exercise of their website.
Although these results are comparable with those obtained in similar international studies, management appears to be failing to recognise the potential this medium commands. 71% of local organisations with access to Web tracking applications have identified at least one of three factors – lack of time, budget limitations, and lack of specialised personnel – to be a limiting factor in maximising their Web analytics potential. It is therefore evident that local organisations are not investing enough time, money and human resources in this area of expertise and as a consequence are not in a position to effectively incorporate Web analytics into their strategic online decision making processes. Taking advantage of online customer centricity and methodically tracking and analysing website user interaction through sophisticated Web analytics applications, enable managers to act on the results, increase customer satisfaction and optimise ROI.
The main aims of tracking clicks on a website are to increase sales, reduce costs, improve ROI, get to know the online customer, fine tune online marketing strategies and improve website performance, with the intent of outperforming competition.
Once the local industry reaches a certain level of maturity and readiness to promote products and services online, metrics that measure online marketing will become run of the mill. In the future more and more organisations will move from 1st Generation 'site stats' to more intrinsic 2nd and 3rd Generation e-metrics, as they progress to reap the fruits of e-business and e customer intelligence, an evolution similar to that followed by accounting systems, from simple databases to produce daybooks for statutory and basic accounting functions, to fully integrated systems built around customer relationship management systems to assist the entire enterprise across the whole value chain.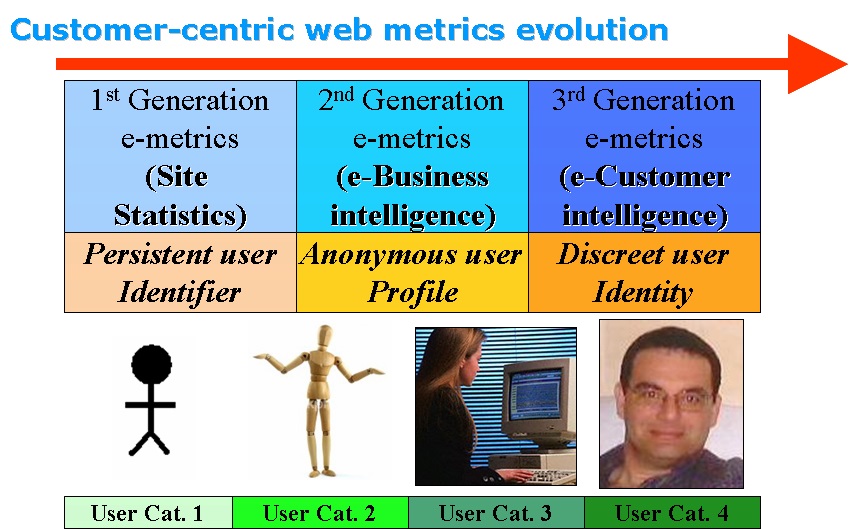 Specifically tailored analytic tools for each unique online business, equip management with the measurement techniques necessary to boost customer loyalty and reduce online customer dropouts. Every online organisation continually performs activities to attract potential customers, influence them to engage with the website, persuade them to perform predetermined tasks, convince them to return, and evoke them to spread the word. Various analysis techniques may be explored to measure the ROI of each of these activities, better known as the four pillars of the online customer life cycle framework: reach, acquisition, conversion and retention.
Once an organisation decides to exploit the paradigm shift through Web analytics, it should invest in the right Web analytic solution that suits the business needs and budget that will allow management to achieve its goals. No tracking analysis tool, on its own, will give management the insight to make the necessary strategic changes to the organisation's website. Investment in staff training and/or outsourcing the interpretation of Web metrics to able professionals is indispensable. Not all that is measurable is relevant and management should focus on critical aspects of their business to improve the overall performance and prevent the migration of their customers to their competition.
Article published on the 25th August 2005:  i-Tech: The Times of Malta & Technology & timesofmalta.com
August 25, 2005

Created By:

Categories: